Lorry Mounted Crane Truck Hire
Scania, DAF & Volvo Lorry Mounted Crane Hire
In Stock & Bodies built to your custom requirements
FASSI Mounted Cranes for high-quality heavy duty lifting
A crane truck lease is the most effective option for many businesses when versatility and cost-effective solutions are desired. Our entire fleet offers excellent performance and brings new levels of mobility to any worksite.
We have 40 years of experience in lorry mounted crane hire, giving our customers the power to lift a wide variety of objects straight off the ground. You should choose a crane truck lease when you want to go where large cranes and smaller vehicles cannot.
Anyone can take advantage of a crane truck lease, and they are suitable for use in almost any industry, including on construction sites, industrial sites, and private housing. Mac's Truck Rental has a vast range with different lifting capacities ranging from 7.5 tonnes to 32 tonnes.
Our vehicles are easy to operate, safe, and versatile, with different configurations and a choice of front and rear-mounted cranes. A variety of crane attachments are available such as clamshell grab buckets and brick grabs. Every need can be met, making collections and deliveries straightforward, and reducing your need for forklifts.
Our crane lorry hire is available on short and long term leases and is inclusive of maintenance. Remote controlled operation is offered on our dropside, beavertail, and flatbed models.
Hiab Hire
Your crane truck lease choice includes those manufactured by the top brands, including Scania, Volvo, and DAF. We provide crane truck and Hiab lease with full training and familiarisation, and you can take your pick of manual and automatic transmissions.
If you are searching for a leasing option, get in touch today. Our vehicles are delivered across the UK and are inclusive of all essentials, such as tax, servicing, and MOT.
Some of the trucks we have available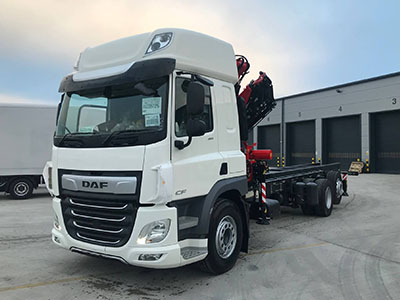 DAF (2019) CF410 6 x 2, Sleeper Cab, Fassi Crane – Body of Your Choice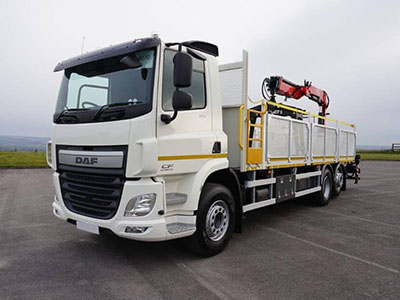 DAF (2019) CF370 6 x 2 Fassi F155.2.22 Crane Mounted Rigid Flatbed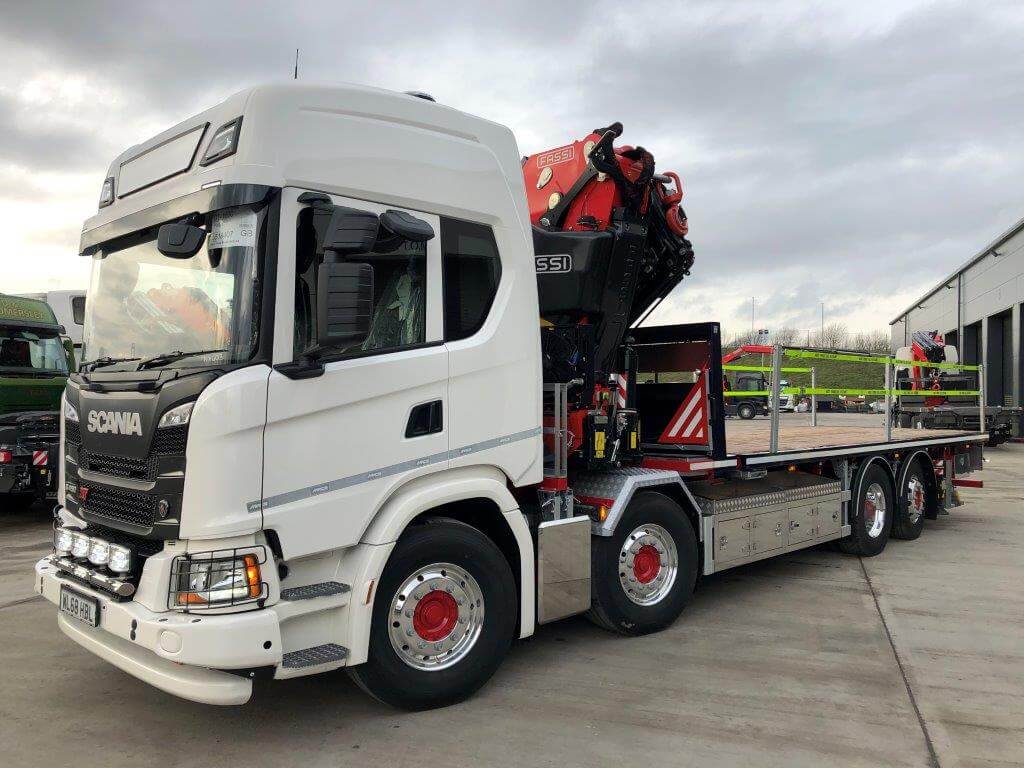 Scania (2019) G450 8 x 2 Fassi Crane (of your choice) Mounted Rigid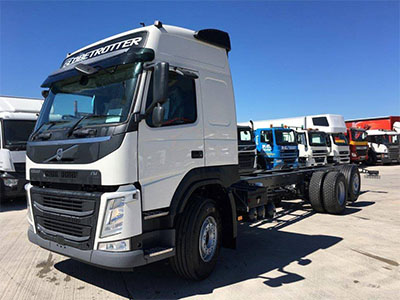 Volvo (2019) FM420 Globetrotter 6 x 2 Chassis Cab – Crane & Body of Your Choice
Lorry Mounted Crane Truck Specifications
00% Tax Deductible
26000 – 32000 kg gross
Euro 6
Remote controlled cranes
Cheesewedge, beavertails and flats
Full Training & Familiarisation on collection
Manual & Auto gearboxes
FASSI Crane Capacities: Click here for lifting charts & info
Inclusive of Tax, MOTs & Servicing
Air conditioning
All of our rental options are maintained across the length of your contract and delivered across the UK.
Our crane truck hire is also inclusive of mandatory checks every 6 weeks.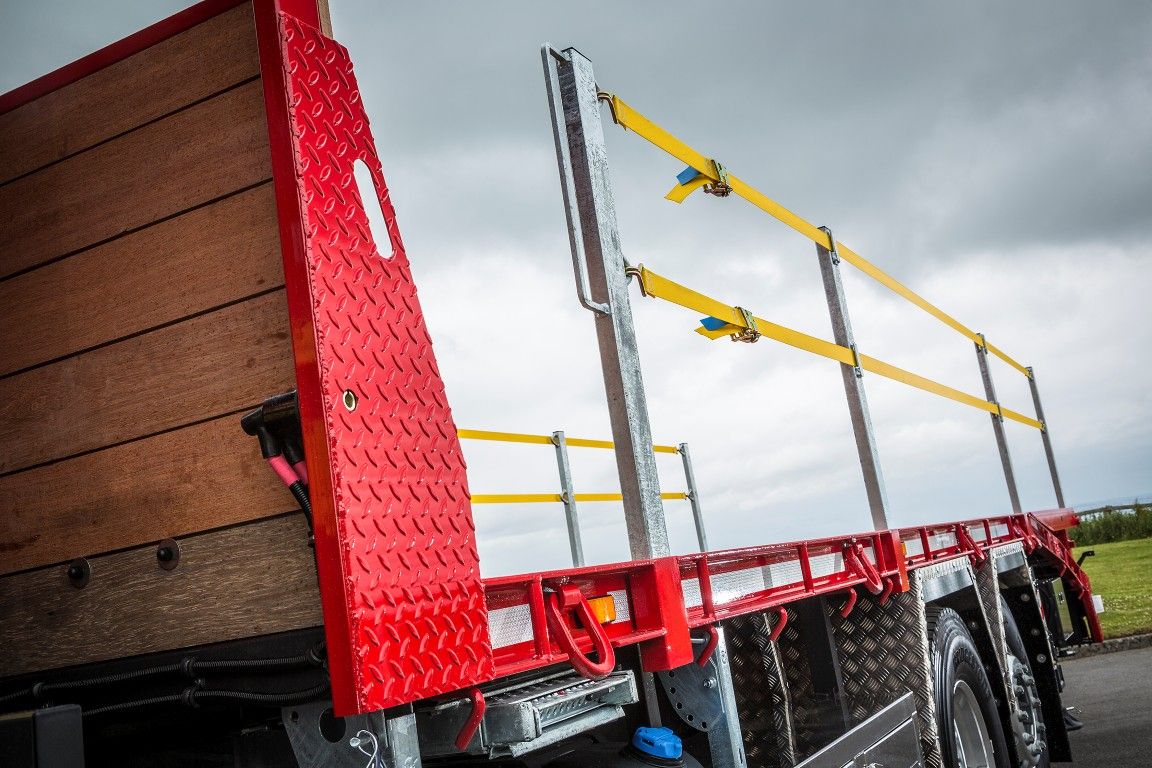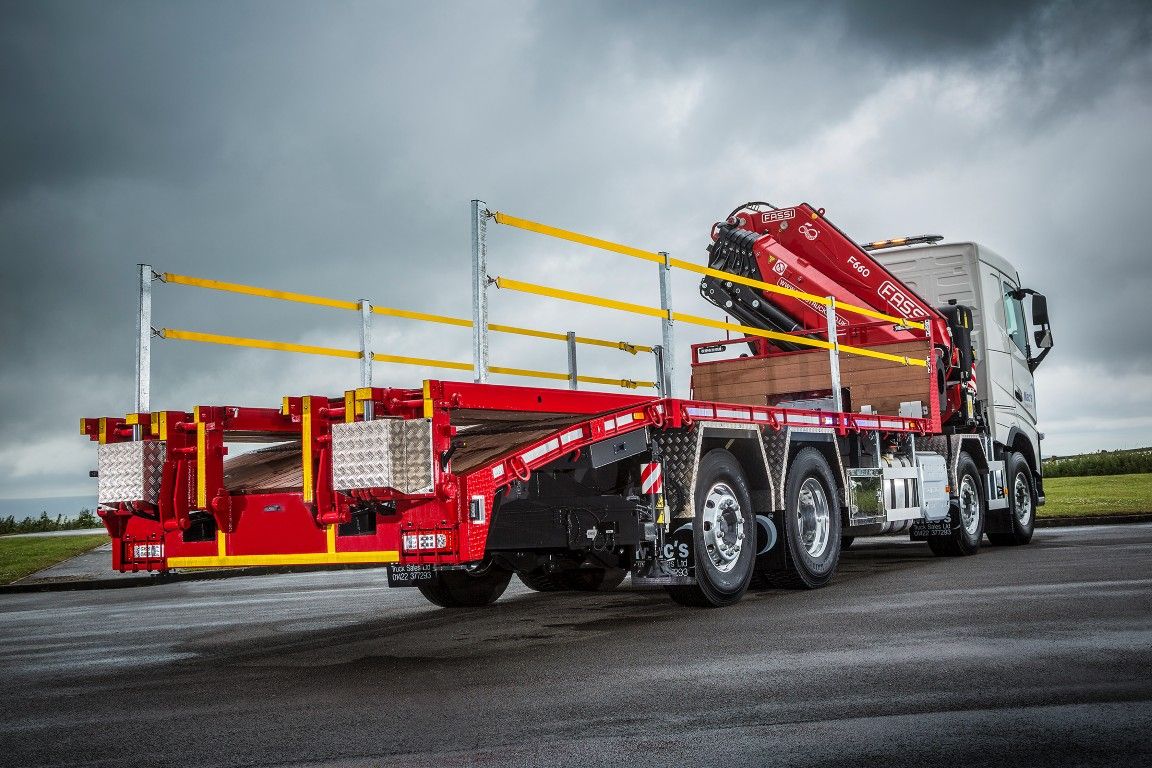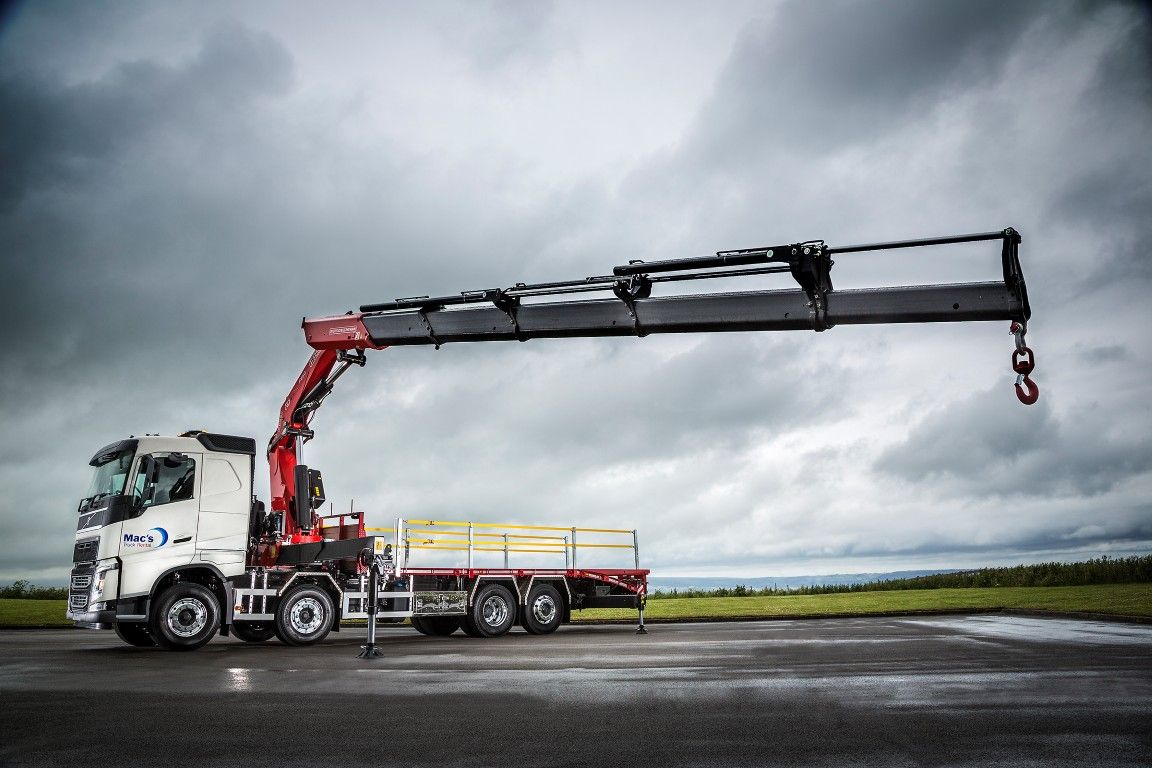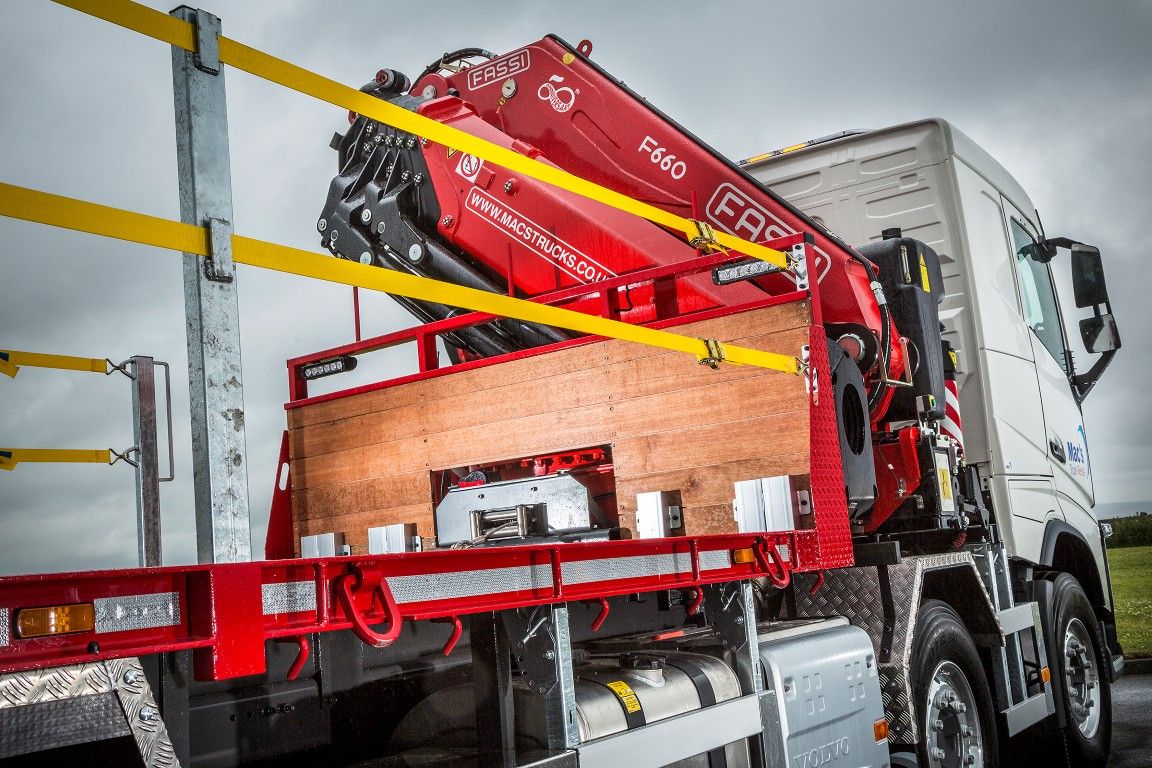 Delivery Service and Immediate Availability
We have a huge fleet of vehicles that are ready for immediate hire, including our lorry mounted crane trucks, that are ready to go whenever you need them. This allows us to respond to the needs of your business, whilst you're safe in the knowledge that our truck mounted cranes & lorries are exceptionally maintained and of the highest quality.
Our delivery service will transport skip truck's to anywhere across the UK, whether you're looking for crane truck hire London, crane truck hire Bristol or crane truck hire Glasgow, we can respond to the needs of your business whenever you require assistance.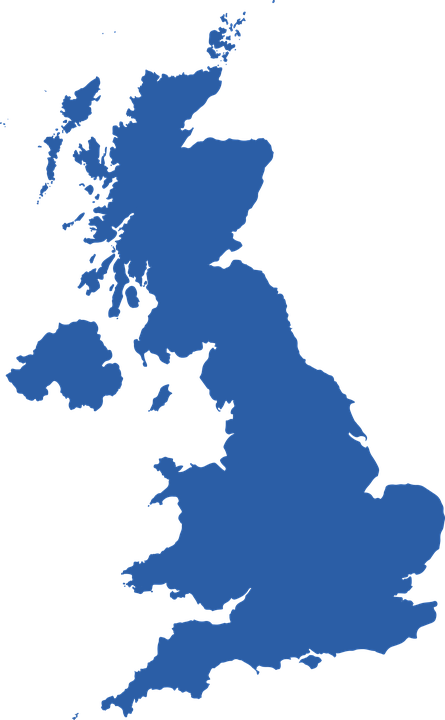 Up to 30 Days
Whether you need one of our crane trucks for the day or over the weekend, we can work with you and be as flexible as you require..
Up to 6 Months
We provide short-term crane mounted truck hire for upto 6 months, with options that suit fixed term requirements.
Up to 5 Years
Our long term rental provides the best rates available, saving time, money, and business capital in large lorry rental expenses.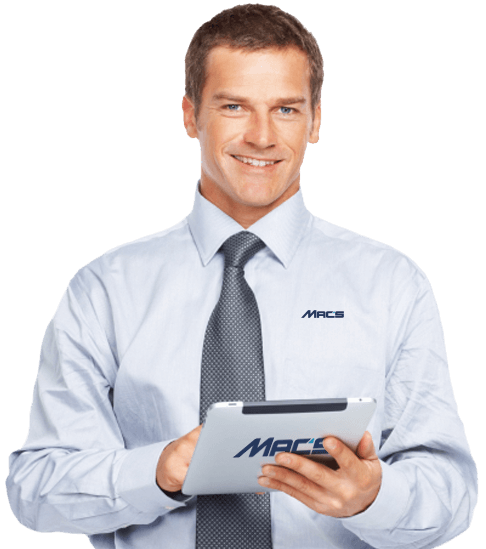 Flexible Hire to Suit Your Business
The terminology surrounding crane truck hire, and crane mounted truck rental in general, can be confusing, and we're here to simplify it.
You can hire a crane truck from us for as long as you need it, or you can get in touch with us to discuss leasing and finance options over a longer period, to provide the best value for money.