Mac's Truck Rental provides flexible and straightforward hookloader truck leasing for sole traders to large multi-site national companies. We deliver our high-quality hookloaders to businesses who wish to give their valuable customers an efficient and reliable service.
Hook Loader Trucks Can Transport Almost Anything
The hookloader truck is the ideal solution for transporting large skips, bins, and containers. They are a favourite for companies working in the waste disposal, recycling, industrial, or construction sectors, moving everything from scrap to demolition.
The hook loader uses powerful hydraulics mounted on various chassis to load and unload quickly. Our stock includes models up to 8×4/32,000kg, safely lifting, loading, and securing the payload in one step.
You will find the convenience and comfort for your needs with many cab designs and hookloader bodies, with options including automatic sheeting systems, reversing cameras, and Euro 6 emission rated engines, from brands such as DAF, Scania, Mercedes, or Volvo.
Hook Lift Rental Options
Mac's Truck Rental has forty years of experience providing hookloader lorry rental with excellent customer support. We stock a wide choice of hooklift trucks, ready for immediate hire.
Our hookloader truck rental will help you keep your operating costs manageable and predictable. We offer short-term hire from a single day to a month, medium term hires up to six months, and long term leasing up to five years, with excellent rates that help you save time and money. With a long-term rental, we can customise your hookloader truck with your company's colours, branding, and livery.
We deliver across the UK, and your hookloader truck rental includes six-weekly mandatory maintenance checks to ensure they remain in top condition, reliable, and complete working order throughout your entire contract.
You can request a quote online or call our team on 01422 557 290.
Some of the trucks we have available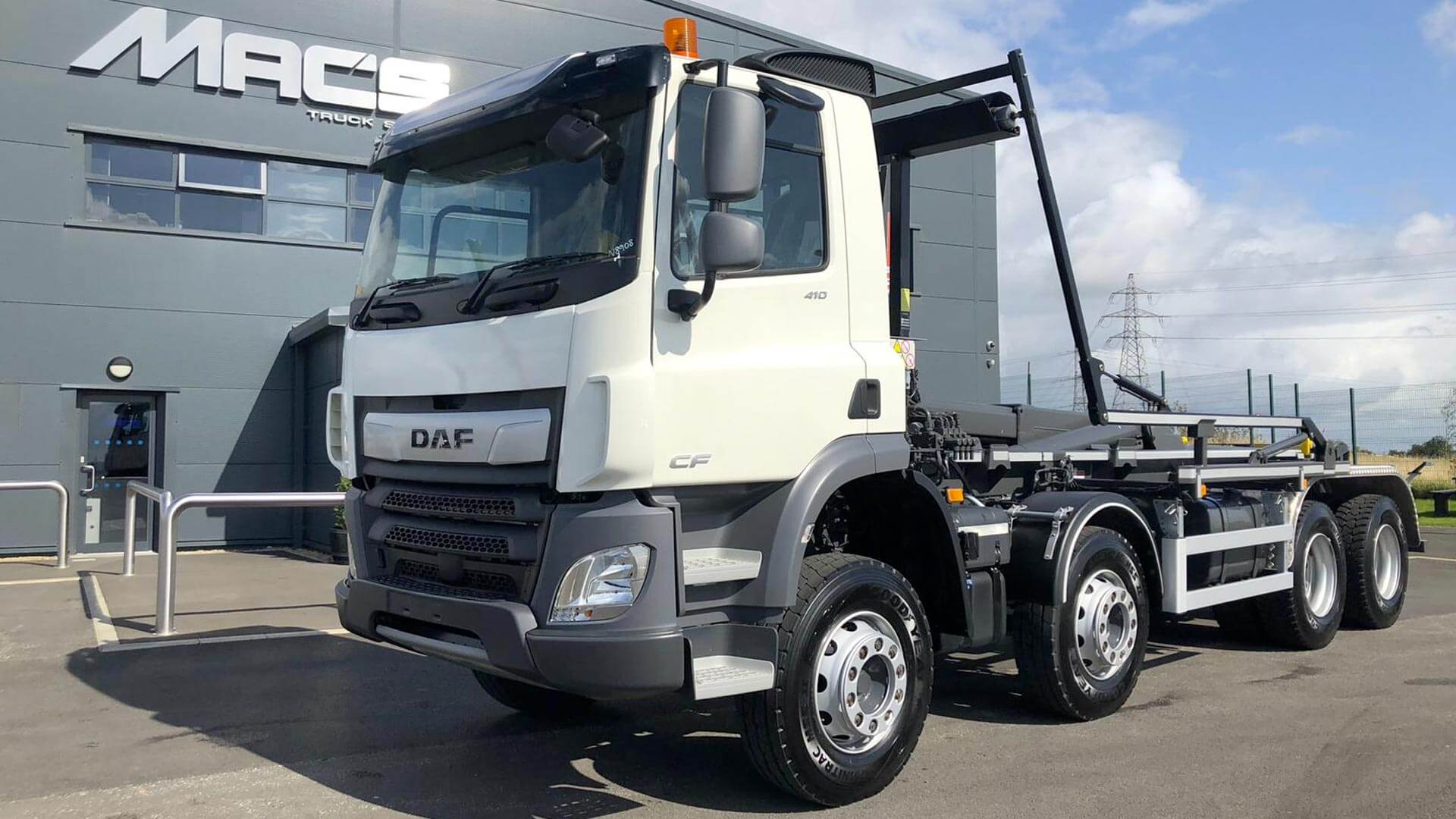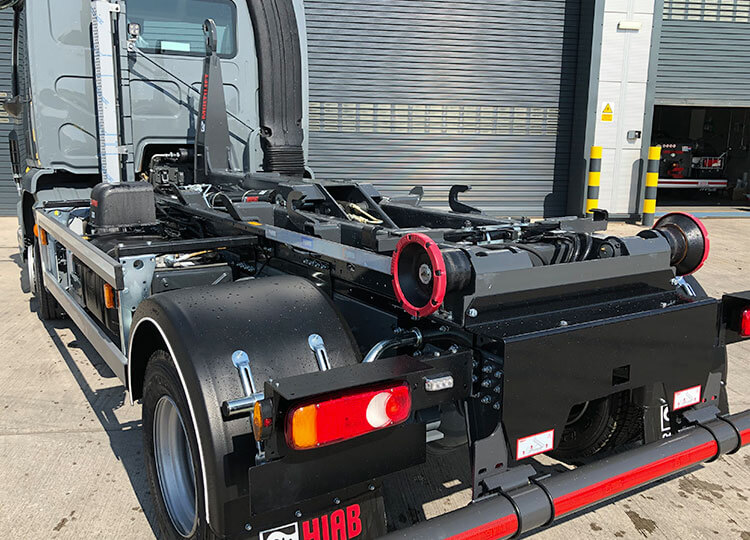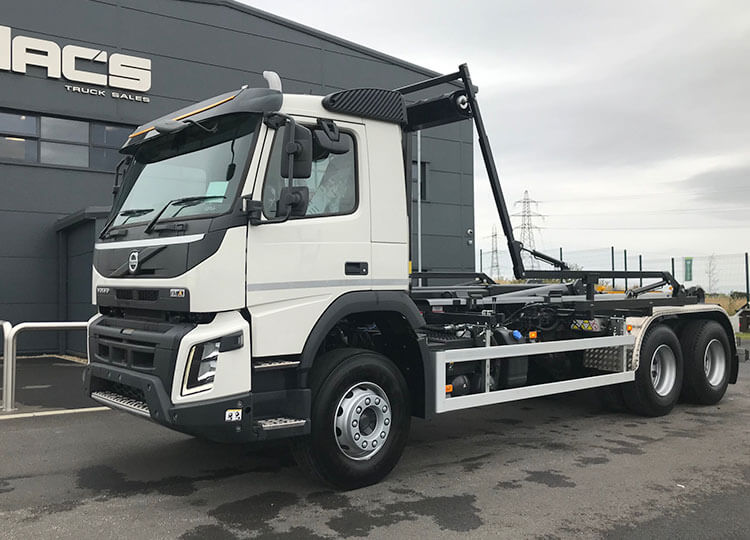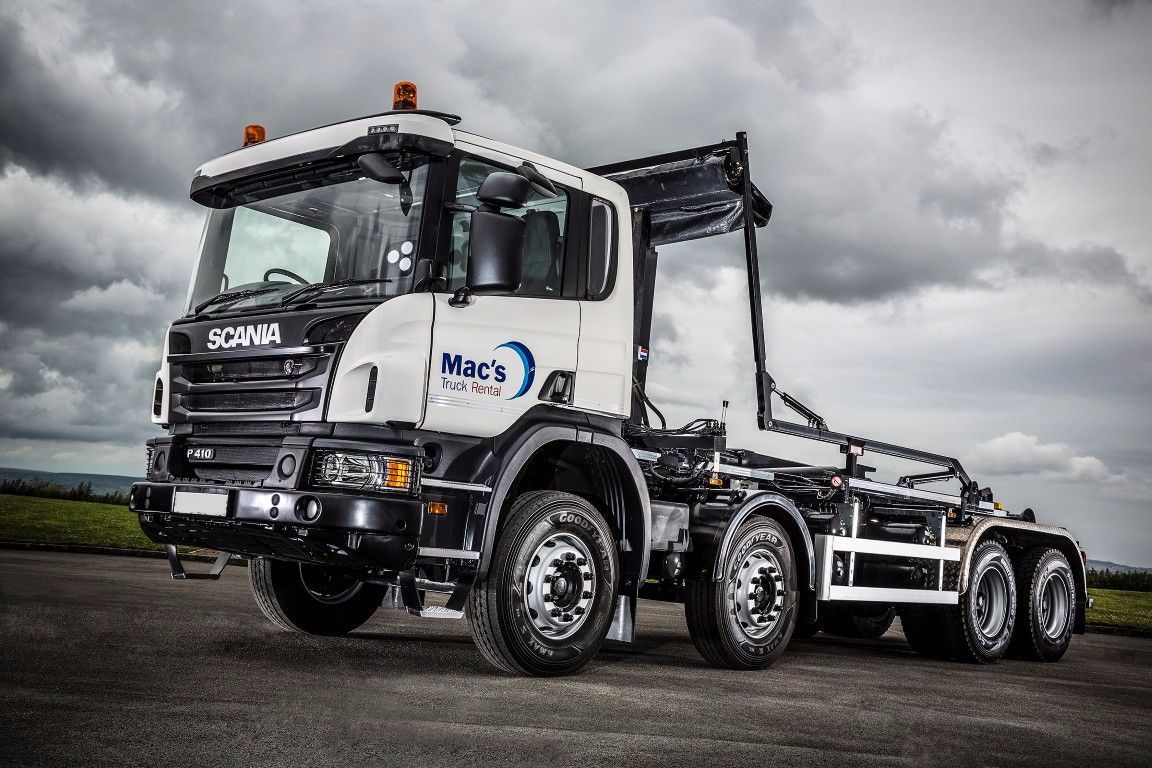 Hookloader Specifications
The details of our DAF hookloader truck leasing solution include:
100% tax-deductible
DAF CF 450 Hookloader
32 ton GVW
Euro 6 emission rated
VDL 25-ton lift hook equipment
Air-conditioning
Sun visor
Roof Beacons
Alloy mudguards
Sheeting system
Reverse camera
With these specifications, our hookloader truck leasing will allow you to get to work with vehicles that are ready to go. Whether you are working in the inner city or visiting building and industrial sites, we have the solution you need.
Delivery Service and Immediate Availability
We have a huge fleet of vehicles that are ready for immediate hire, including our lorry mounted crane trucks, that are ready to go whenever you need them. This allows us to respond to the needs of your business, whilst you're safe in the knowledge that our truck mounted cranes & lorries are exceptionally maintained and of the highest quality.
Our delivery service will transport skip truck's to anywhere across the UK, whether you're looking for crane truck hire London, crane truck hire Bristol or crane truck hire Glasgow, we can respond to the needs of your business whenever you require assistance.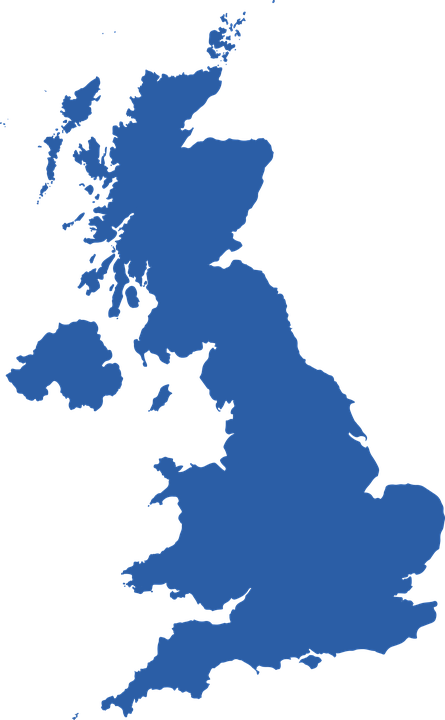 Up to 30 Days
Whether you need one of our crane trucks for the day or over the weekend, we can work with you and be as flexible as you require..
Up to 6 Months
We provide short-term crane mounted truck hire for upto 6 months, with options that suit fixed term requirements.
Up to 5 Years
Our long term rental provides the best rates available, saving time, money, and business capital in large lorry rental expenses.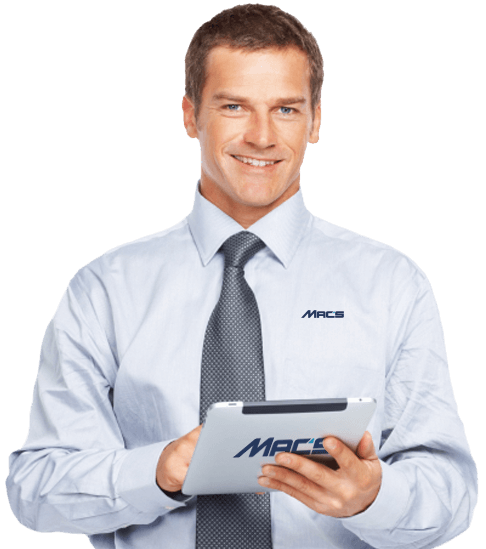 Flexible Hire to Suit Your Business
The terminology surrounding crane truck hire, and crane mounted truck rental in general, can be confusing, and we're here to simplify it.
You can hire a crane truck from us for as long as you need it, or you can get in touch with us to discuss leasing and finance options over a longer period, to provide the best value for money.