Construction Vehicles for Hire – Responding to your needs
This week the Construction Products Association, who represent the UK's manufacturers and distributors of construction products and materials, updated their 2018 forecasts for the growth of the construction industry.
Originally set for a growth of 1.2%, the CPA are expecting the industry to grow a slightly lower 0.7%. Usually this figure fluctuates depending on how the overall economy is performing, which is currently still growing but starting to slow.
Private housebuilding and infrastructure are the biggest drivers of growth, and will continue to be so with the continued use of the Government's Help To Buy scheme for housebuilders, and large projects being undertaken such as the HS2 that are providing infrastructure requirements across the country.
Due to the slowing rate of growth in the industry, it's a natural reaction that many companies are watching their costs closely, with the first of these to be questioned being large expenses, such as trucks and vehicle requirements.
It's a given that by operating in high growth areas such as housebuilding and infrastructure, that are also closely guarded by regulations, high-quality trucks are required to be awarded contracts and maintain efficiencies.
However, something that many businesses haven't considered, is the benefit that construction vehicles for hire can have.
Perhaps the biggest advantage of working with a truck rental specialist is how responsive we can be to your requirements. With a fleet of construction vehicles for hire available for short and long term rental, we'll work with you to deliver trucks wherever you need them throughout the country. This means that your construction trucks aren't sitting unused in yards, and equally you're not struggling to complete jobs due to a lack of vehicles.
Personalised Finance Plans
When working with truck rental companies such as Mac's Trucks, depending on the length of lease you require, you're given the option of renting a high quality late used truck that complies with the latest regulations, or a brand new truck with a custom body built specific to your needs, that also features custom colours and branding throughout.
Environmental Requirements
In our recent blog post, we discussed the environmental requirements of companies looking for construction vehicles for hire, particularly regarding Euro VI engine technology. By hiring a construction truck, your business will be compliant immediately, with new trucks available to you as and when you need them in the future.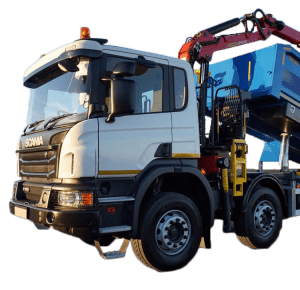 Tipper Grab Hire
Tipper Grab Lorry Hire from Mac's Trucks provides you with high-quality HGV grab loaders that help you complete the job at hand. Our tipper grabs feature bodies from Thompson, the UK's Number 1 tipper bodybuilder, which are optimised to deliver strength without compromising the tipper grab trucks payload.  Our tipper trucks also come equipped with Epsilon grab cranes, renowned for their performance in recycling, scrap and timber industries with high-performance clamshell buckets.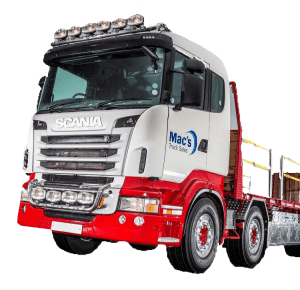 Beavertail Truck Hire
We take on the responsibility of making sure your business can simply and efficient transport cargo by providing you with the highest quality beavertail truck hire. Our beavertails come equipped with our own high-quality truck bodies, with a range of features including fall arrest systems – protection straps mounted around the entire beavertail truck to meet safety regulations, a fully remote controlled winch system, and Euro VI engines.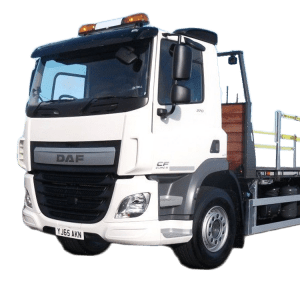 Plant Transporter Hire
Beavertail plant trucks from Mac's Trucks are purpose-built for easy operation, with custom bodies designed to your specifications. Equipped with a heavy duty plant body, manufactured in-house with a built-in fall arrest system, that can transport plant equipment easily and securely, transportation is easy. What's more, our trucks are Euro VI compliant and come fitted with a fully remote controlled winch system.
To learn more about our Truck Rental click here, or feel free to get in touch with Mark on 01422 311 999 or [email protected]