Commercial vehicle hire is an essential aspect of modern day business, with flexible access to trucks a necessity to reduce overheads and minimise operational costs.
Mac's Trucks are one of the UK's largest commercial vehicle hire specialists, which has grown from our long history in truck sales.
We take pride in providing our clients with only the highest quality trucks, which gives you access to the best new or late used commercial vehicles for your business.
This results in your business complying with the latest emissions standards (all of our trucks include Euro VI engines) whilst being safe in the knowledge that you're running a vehicle free from long-standing wear and tear.
Our truck rental is based around you, and the needs of your business. We have a range of rental options available, including personalised finance options and inclusive ongoing maintenance. Alongside this, commercial vehicle hire saves you money long term, by: 
Removing the unpredictability in terms of costs that truck ownership brings
Inclusive maintenance, leaving you free to operate at a fixed monthly price
Reducing your tax bill by offsetting costs against your taxable profits
Commercial Vehicle Hire UK Delivery – we'll deliver your commercial vehicle across the UK, to work sites or to your premises.
Commercial Vehicle Leasing – Long Term
When renting a truck over a number of years, we understand that the vehicle needs to be fit for the specific requirements of your business. This usually results in the build of a brand new truck with custom bodies and other features such as mounted cranes, that are ideal for your line of work.
For customers looking to hire a truck over a number of years, we include:
Custom body build
Company branding and colours
Ongoing Maintenance
Short-term Commercial Vehicle Hire
Our short term options are ideal for businesses looking to meet their requirements on specific projects. We're perfectly placed to respond to the needs of your business with flexible hire available at short notice.
Our short term hire provides you with:
Truck rental on a month by month basis
Access to high-quality trucks with the latest emissions standards
Delivery of your truck can be taken in less than 48 hours
Spot Commercial Vehicle Hire
Whether your truck has broken down or you have a last minute job and all of your trucks are in use, our spot hire means you can take advantage of our large fleet of trucks, renting a vehicle at short notice.
Our spot commercial vehicle hire provides you with:
Truck hire on a day by day basis
High-quality trucks suitable for use anywhere in the UK
Delivery to your location
We provide a range of commercial vehicle hire options:
Skip trucks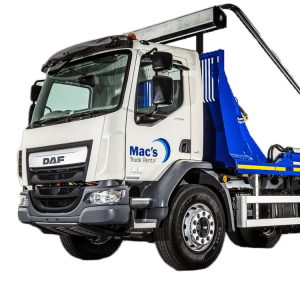 Our skip trucks include Euro VI engines, 18 tonne GVW, VDL 14 tonne lift skip equipment plus full ongoing maintenance and company branding.
Beavertail Trucks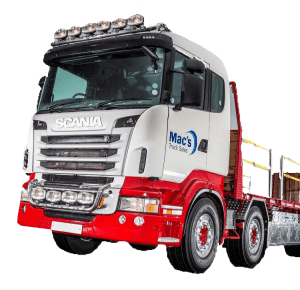 Our beavertails come equipped with our own high quality truck bodies, with a range of features including fall arrest systems – protection straps mounted around the entire beavertail truck to meet safety regulations, a fully remote controlled winch system, and Euro VI engines that ensure your business is compliant with London's Low Emission Zone (LEZ) regulations.
Hook Loaders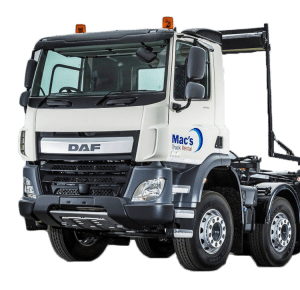 Our Hookloaders come equipped with VDL hook lifts that are fully remote controlled and reassure you of VDL's simple & highly reliable operation. Plus, once mounted onto the hook loader, our sheeting system automatically covers open cargo securely at both ends.
Tipper Grabs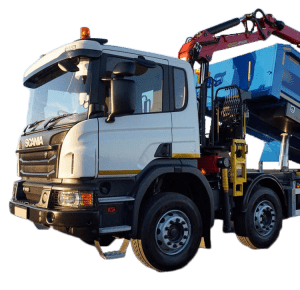 Our tipper grabs feature bodies from Thompson, the UK's Number 1 tipper bodybuilder, which are optimised to deliver strength without compromising the tipper grab trucks payload. Our tipper trucks also come equipped with Epsilon grab cranes, renowned for their performance in recycling, scrap and timber industries with high-performance clamshell buckets.
Lorry mounted cranes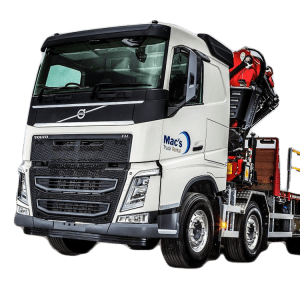 We have Scania, DAF & Volvo lorry mounted crane trucks for hire, with Cheese Wedge, beavertails and flat bodies, plus FASSI cranes.
Moffett Mounted Curtain Siders
Our Truck Mounted Forklift hire provides you with two high-quality vehicles designed to help you transport large and heavy goods easily: a DAF CF 370 truck with a 26ft curtainside, and a Moffett M5 truck mounted forklift.
Talk to Selena today for more information on how your business can benefit from truck leasing.
You can contact Selena on 01422 311 999 or email [email protected]